Постинг
23.05.2011 20:54 -
Unification Family: Rev. Moon & Unification Church: followers and operations
Автор:
hituc
Категория:
Лайфстайл
Прочетен:
2603
Коментари:
2
Гласове:
0
Последна промяна:
23.05.2011 23:52
Unification Family: Rev. Moon & Unification Church: followers and operations
от unification-family.blogspot.com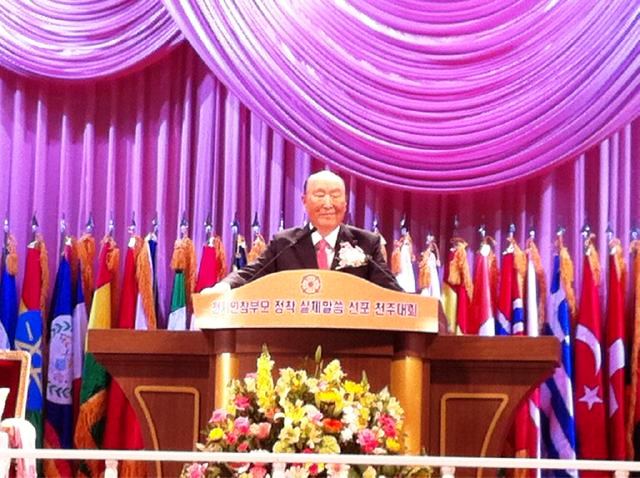 The
Unification Church
is a new religious movement founded by Korean religious leader Sun Myung Moon. In 1954, the Unification Church was formally not really a church, but Association for Unification of Christianity. These are names given by negative narrow minded people: Unification Church, Rev. Sun Myung Moon, Moonies, moonies, moonie, moony, Moonie, sect of Mooon, cult etc. Well, no wonder - Moon was the one who brought the end of communism. Hopefully rev. Moon and the Unification Church will bring the end of free sex, the family breakdown and the whole culture of immorality. 
Read more

Mass weddings have long been a hallmark of the Rev. Sun Myung Moonґs Unification Church, but the practice may soon come to be something very common. In the past international, interracial and interreligious marriages were tabu, but now they are becoming popular. Unification Church families matched by Moon in mass weddings proved to be very successful. Recent article, ˝The new Moons˝ described the second generation moonies as bringing a fresh and new power within this Unificationist movement.
 
Nostradamus wrote 60 quatrains
giving about

40 signs

by which to identify this man
- the Messianic figure.
According to Nostradamus He will suffer great persecution and misunderstanding; He will be repeatedly thrown in jail; He will fly and travel a lot, but wherever he goes he will bless many families.
The Messianic figure Will unite religions against Communism, according to Nostradamus.
Nostradamus describes him as a new religious leader - carrier of the new truth for our time. This Peacemaker will be born in the Oriental East, uniting the religions against the Red (Communism). Nostradamus gives even his name, "Moon", which in Korean means "God"s Word" (The Word given by God to men).
Until 1991 the world will have heard about him, but people are not going to believe. If we accept him or not by the year 2012 will determine what will follow; a bright future or destructive World War III.
Read...
Jesus guided me to Rev. Moon
| | |
| --- | --- |
| | My joining the Unification Church: My life in search of the truth. This personal story, got very popular and was read by thousands of people. |
Sun Myung Moon: Revolution of Heart
| | |
| --- | --- |
| | Rev. Sun Myung Moon, Unification Church founder - The man who ended Communism is now dedicated to unite the efforts of all religions for bringing world peace... |
1.
hituc -
Unification Church becoming the trend
23.05.2011 20:57
So if the terms ˝Moon, Moonies, moonies, moonie, moony, Moonie˝ were negative in the past, they may become positive terms that many will be proud to be associated with. This was the case with Martin Luther King, Gandi, Jesus and many other great spiritual peacemakers in the past... So Rev. Moon and the Unification Church are in great company. And most surely they are unificationists and peacemakers with amazing loving families if one knows them.

Here is what an Anglican Priest, Senior Lecturer in Religious Studies, Rev. David A. Hart wrote:

˝Thank you, Rev. Moon, for your life of self-sacrifice and vision. In some sense, even we who are outside your membership as Ambassadors for Peace can salute you also as our ˝True Father,˝ for you have contributed to the global vision of the earlier messiahs, and we salute your noble path and commit ourselves to follow in the future!˝
цитирай
2.
hituc -
Unification Church (Moonies) - Not a Christian sect or Cult?
24.05.2011 00:02
In fact Unification Church of Rev. Moon really proved to be just the opposite of sect. Sect means dividing while Unification Church really unites different religions even science and religion and the different ideologies.

Unification Church does this quite successfully not only because this is their main understanding, belief and purpose, but also because the incredible unifying abilities of their founder and leader, Rev. Sun Myung Moon.

He unites not with discussions and dialogue, but with the power of love and purpose. Once the opposite, divided sides experience working together for the same good cause they find out that there is nothing important to argue about. In this Rev. Moon and the Unification Church proved to be a revolutionary new movement - one that can really bring peace where it seemed impossible.

The official title of the Unification Church is The Holy Spirit Association for the Unification of World Christianity. It was officially founded in 1954 by the duly considered as most successful religious leader of our time, Rev. Sun Myung Moon. The man who according to Reagen, "brought the end of Communism".
цитирай